About Us
SustainoMetric is committed to providing high quality customized ESG/sustainability research and advice to investors, ESG database and index providers, thematic raters, and companies.
Your ESG Research Partner
SustainoMetric is committed to providing high quality customized ESG/sustainability research and advice to investors, ESG database and index providers, thematic raters, and companies. We differentiate ourselves by becoming an extension to your team and bring in research efficiencies through seamless coordination. Our work starts where your capacity ends.
We govern ourselves with five key principles in every sphere of our business from decision making to conducting research:
Quality: Quality comes first to us. It is in our DNA to focus utmost on providing insightful and actionable research services to our clients.
Responsibility: Sustainability starts with responsibility. We take responsibility of ourselves and share the responsibility of our clients.
Client satisfaction: We strive for highest level of client satisfaction in each business relationship.
Integrity and honesty: We have set the highest levels of integrity and honesty while dealing with our people, clients, business partners, and society at large.
Pride: We take pride in our work. We believe that our work is our contribution towards a sustainable world.
Mission
To help investors and companies seeking to improve sustainability in investments and operations, by providing high-quality and customized sustainability research and advice.
Vision
Be a global leader, in thought and action, to drive the transformation towards a changed world where sustainability becomes a norm and where investors and companies take collective actions to address real-world problems in sustainable ways.
What you get
We consider ourselves as a part of our clients' own team and strive to add value by providing high-quality research. Besides benefiting from our proven capabilities, our clients:
Get free analyst time for more value-added activities such as engaging with companies, refining methodology, stakeholder discussion, and outreach;
Expand coverage and scale-up quickly by providing access to trained associates with experience and competencies in ESG domains/themes/sectors;
Reduce research cost and time to market;
Get flexible staffing to bring down costs during lean periods;
Get access to best practices gained through experience of working with some of the most respected names
Benefit from process re-engineering through the implementation of industry best practices.
Access to technical expertise in designing and developing IT tools to improvise your research processes such as simplified workflows, automate manual tasks and integrate machine learning into data collection.
Peter van der Werf is Engagement Specialist, covering the Consumer Staples, Healthcare and Chemicals sectors. His areas of expertise include impact investing, labor rights, supply chain management, access to medicine and nutrition and social & environmental issues in the Food & Agri sector. He is an Advisory Committee member of a number of PRI working groups such as Agricultural Supply Chain, Sustainable Palm Oil and Deforestation.
Peter gained over four years of professional experience in business development in frontier markets before joining Robeco in 2011. He holds a Master's in Environmental Sciences from Wageningen University.
Peter Mufut is ACIP's Co-Founder and Managing Partner. With over 15 years of professional experience, he has successfully led and participated in innovative, developmental, and financially viable investments of over USD 100 million across emerging and frontier market economies. Peter represented ASER Capital's business from The Netherlands as a Senior Investment Manager, managed the European Investor Relations, and mobilized private capital for private sector companies in Africa and Latin America. Prior to joining ASER Capital,
Peter was a Financial Consultant at Profundo, an economic sustainability consultancy firm in Amsterdam. He also worked for various impact investors in the Netherlands, such as the Dutch Development Bank (FMO), Goodwell Investments, Terraffina Microfinance-ICCO Corporation, and E+Co. Peter holds an MBA in Finance & Investments from Rotterdam School of Management, Erasmus University (Netherlands) and a BA in Finance and Accounting from Utrecht University of Applied Sciences (Netherlands).
Sakis is a co-founder and the CEO of RGS. Sakis has extensive experience in developing ESG strategies for investors and companies, having previously co-founded KKS Advisors, a leading advisory firm helping clients on innovative solutions to more sustainable business models and communities. He has been a senior advisor on ESG integration to organizations around the world, having accrued significant experience in building new ESG datasets and developing measurement frameworks. He also serves as a Senior Advisor to Dupont Sustainable Solutions. Sakis holds a PhD in material science and engineering from Imperial College London.
Kanchan is the Executive Director at Sustainometric. She has over 16 years of experience combining responsible investment research across various ESG strategies, project management, and advisory support to ESG raters and fund managers on ESG integration.
Kanchan has covered multiple sectors and themes such as key commodity supply chains (palm oil, soy, meat), financials, and human rights.
She has also extensive experience in responsible investing policy and strategy development. Leveraging her years of experience in responsible investing research, she founded Sustainometric in 2017. Prior to Sustainometric, she has worked with various companies such as Profundo, Robeco, and Evalueserve in varied roles around responsible investment research and advice. Kanchan holds a Master in Business Management in Finance.
Rajani leads the ESG Research and operations at Sustainometric. In her role, she is responsible for overseeing all the ESG projects, service delivery, and client satisfaction.
She has more than 13 years of experience working in various management roles. She specialises in themes such as animal farming, gender diversity, and green revenues. In her current role, Rajani is also responsible for analysts upskilling, training, and resource planning. Prior to joining Sustainometric, Rajani was managing the sales team a local electronic company and was responsible for achieving sales targets. Earlier, Rajani was managing a team of 25 people and was responsible for productivity and delivery at Hutchison Essar (now Vodafone). She holds a Bachelor's degree in Commerce from Allahabad University."
Nitesh leads the Impact Research team at Sustainometric. Overall he has more than 7 years of experience in investment research. As an Head of Impact Research, he manages the team focussing on impact research related projects.
Nitesh has a keen interest in Sustainability and Climate Change. Prior to joining Sustainometric, Nitesh was working as business analyst at EL Dynamics. Earlier, Nitesh was managing a PAN India project for an international client (in a third party set-up) and was responsible for product promotion & development. He holds a Master's degree in Management with a specialisation in Finance and Marketing.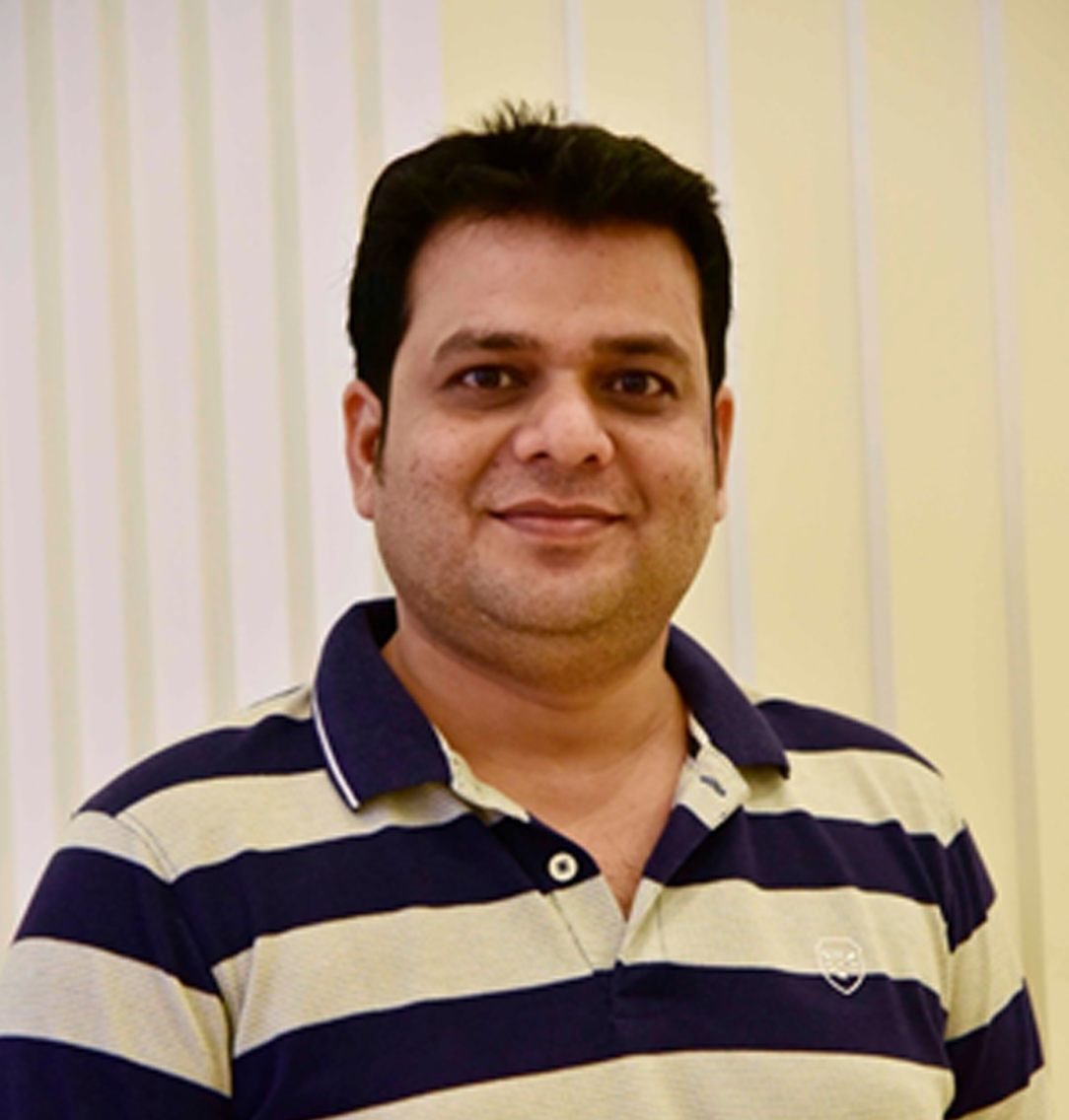 Rajeev is a Research Lead at Sustainometric heading its diversity practice. His core skills include project management, team management, research process transformations, productivity and quality management. He joined Sustainometric in January 2019. Overall he has 8 years of experience in managing teams with high quality output. Prior to joining Sustainometric, Rajeev was working with Matrix Cellular International and was leading a team for tracking unbilled usage. He also worked for Kotak Mahindra Bank as a Manager leading sales team for retail banking. He holds a Bachelor's degree in Science from Magadh University.
Shalini is a Research Lead at Sustainometric and leads its Social indicators team. She has worked on and managed various projects focused on children's rights, gender diversity, and workforce disclosure. She holds a master's degree in Economics with a specialization in econometrics from Bananas Hindu University.
Sanchaya is a Research Lead at Sustainometric and heads its key commodities practice. In her role she ensures end-to-end project delivery of commodities research projects. She has managed and delivered projects on palm oil, soy, rubber, and timber and pulp. She holds a master degree in business administration with a specialization in finance and human resource from Abdul Kalam Technical University.
Sarfaraz is Head of ESG Technology and Service Expansion at Sustainometric. He is responsible for the amalgamation of technology in our research processes and keeps a close eye on the technology side of developments in the sustainability research and reporting area. He has spent about 16 years in financial research. His experience varies from start-ups to Fortune 500 companies. In 2010 he was bitten by an entrepreneurial bug and promoted a company to serve the XBRL reporting needs of small reporting companies in the US.
Prior to that, he worked with companies ranging from sub-consulting to Investment Banking in a variety of Finance and Banking Services including Escorts Securities, Evalueserve, and HSBC. He has an MBA in Finance and IT from the Indian Institute of Technology, Roorkee. When he is not working, he loves to spend time with his family and read books.
She collaborates with various heads for resourse planning and is responsible for recruitment, on-boarding and orientation, organizing people engagement activities, idea generation to influence and motivate employees for work life balance.
Additionally, she prepares management dashboard for resource utilization, project profitability etc. She strongly believe in sustainability as a concept and encourage companies and investors to take the signals seriously.
Prior to joining Sustainometric, she was Program manager for student exchange programs GOTA, organising and managing exchange programs.She holds a Master's degree in Management with a specialisation in Finance and Marketing.
what our clients say
Sustainometric's passion and commitment towards supporting our research work is praiseworthy. Their willingness to travel that extra mile, their dedication to quality, and their attention to deadlines makes them a valuable research partner. Through the years they have become part of our extended team and contributed to our success.
Sustainometric is our "go to" firm when we need to outsource ESG and clean economy research. The tenacity of their researchers, their commitment to client satisfaction, and their willingness to work with us in implementing innovative approaches are why we have continued to turn to them for data harvesting support year after year.
SustainoMetric are a dream to work with. They always work very punctually and to a very high standard and have become an indispensable part of our project.
ESG data is at the core of what we do at RGS. The Sustainometric team has helped us power our solution with accurate and granular ESG insights. They have demonstrated a lot of agility and creative problem solving to collect non-traditional and complex ESG metrics.
Working with Sustainometrics has enabled us to be more strategic with our offerings and activities. The Sustainometrics team is eager to deliver quality results and their professionalism and availability to provide support has had a positive impact on our organizational development.
Sustainometric is responsive, flexible to client needs, and has always demonstrated the willingness to continuously improve.
Looking for ESG Research Services.
Talk to us Now!
Reach out for no-obligation consultancy:
hello[@]sustainometric.com